Welcome!
All of us at Singh-Ray are proud and excited to welcome you to our new website and blog. To celebrate, we're offering 10% off essential filter combos used and recommended by top pros such as Art Wolfe, Tony Sweet, Brenda Tharp and Gary Hart.
We're at the same url: www.singh-ray.com. As you can also see, our new blog is now part of the website, so you only need one url to visit both.
Starting with the dramatic images on the home page by some of photography's most-admired names, we wanted to demonstrate that this site is all about making outstanding images (there are now close to 1,000 on the new site). And the new theme of our site and blog – "Capture what you imagine" – is what Singh-Ray is and always has been about. We invite you to spend some time browsing through our new site. Here are some highlights:
Pro Galleries
Over 30 galleries featuring the amazing photography of today's top pros, including Art Wolfe, Jack Graham, Don Smith, Tony Sweet, Tom Till, Brenda Tharp, Ian Plant and many more.
Tips & Techniques
Where you'll find a "best of" blog posts (currently over 100) from previous years, organized by product, to help you get the most out of our products.
 Quick Tips
Concise bullet points on each product page with important tips on when and how to use that product.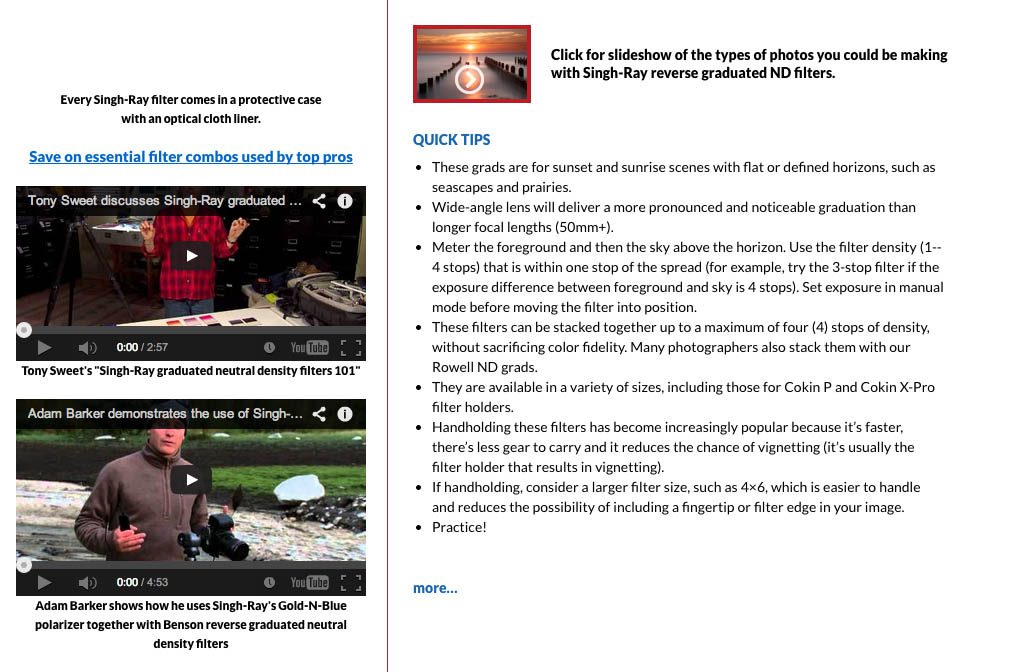 Product Slideshows
On every product page, photos taken by top pros with that filter, to show you the types of images you could be making – and maybe stimulate a new outlet for your creativity!

15% off essential filter combos
See the filters that Art Wolfe, Cole Thompson, Brenda Tharp, Tony Sweet and more can't do without – and save 15% on those combos.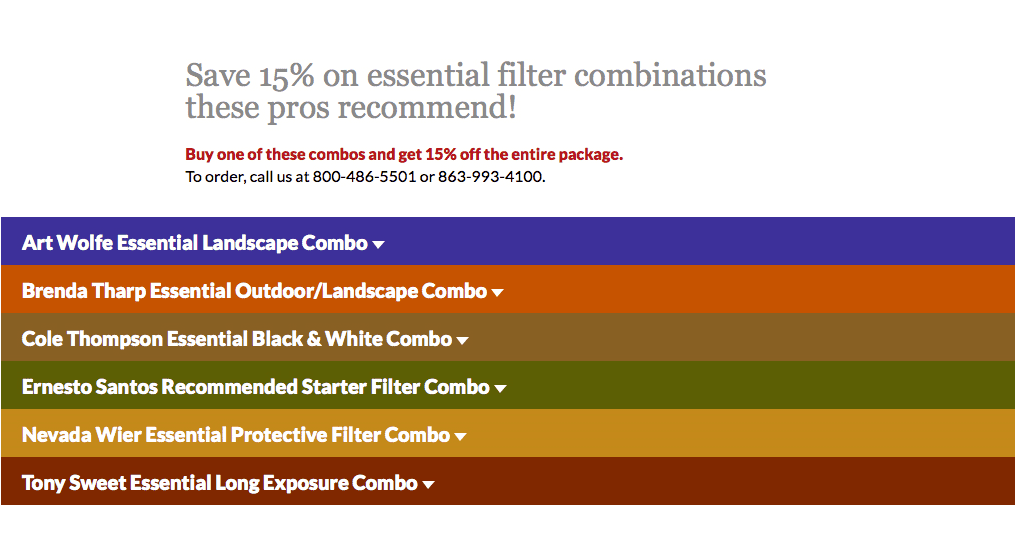 Over 100 new filter sizes
For DSLR and medium-format systems, as well as today's high-performance mirrorless and compact cameras.
We hope you enjoy looking through our new site. We will always be adding new photographers and new work to their galleries, as well as new content to the rest of the site and blog, so please keep coming back! And we encourage your comments on how we can improve the site, as well as our products and service.
All of us at Singh-Ray have worked hard to achieve the level of quality and performance our products offer. As it was the day I started Singh-Ray over 50 years ago, you, the photographer, are the reason we are here. If you don't see what you need on our site, let us know. Chances are we can make it for you.
Lastly, thank you for your continued support. We look forward to meeting your photography needs in the years to come.


Bob Singh