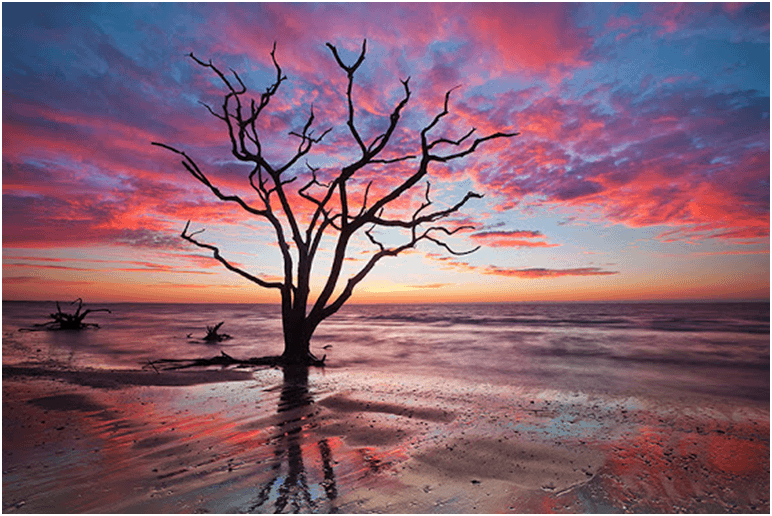 There's a good reason North Carolina landscape photographer Peyton Hale makes sure his Singh-Ray filters are always in his bag. "I just can't work without my LB Warming Polarizer," says Hale. "For example, during my January photo trip to the 'Boneyard Beach' area in South Carolina'aLowcountry, my filters were essential to capturing the fantastic light.
"Most of my photo trips involve extensive planning and several days to adequately document the area, but this was a more spontaneous adventure. I just decided to take a gamble based on an optimistic weather report and favorable tide information. I drove about 5 hours through the night to the unique coastal area known as Edisto Island. I arrive about an hour before I could access the area, so I took a nap in the front seat of my Jeep Wrangler. I awoke on my third iPhone alarm realizing the gate was already open and the sky was beginning to show an intense orange glow at the horizon. I quickly took off down the access road to the parking area, grabbed my photo gear, and hoofed it down to the beach. The cloud cover was textbook, I couldn't have asked for the variables to come together more perfectly. I had the entire place to myself and 20 minutes before sunrise everything was developing nicely.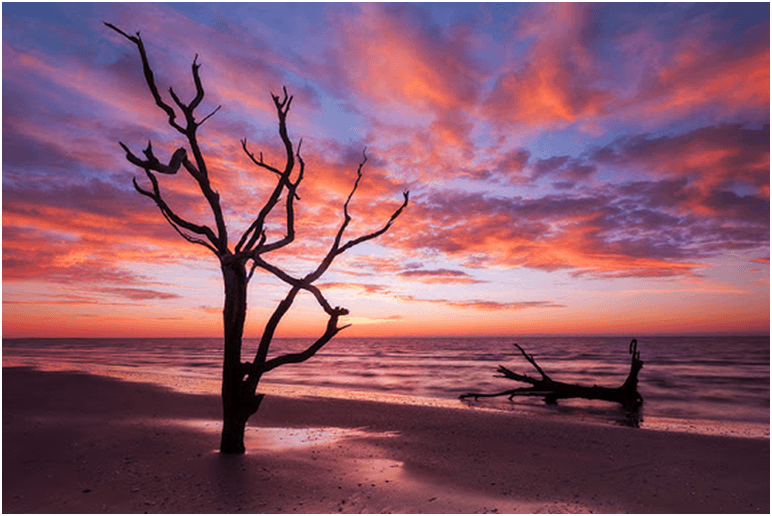 "OK folks, here's a little natural history for you. The trees lining this portion of the Atlantic coastline are derelict live oaks that have been battered by high tides and hurricanes for decades, yet they're still holding strong against nature's wrath. Unfortunately these trees are succumbing to beach erosion and will eventually be reclaimed by the sea. Looking at images from the area over the past few years reveals a grim story of root exposure along with the impact of storms significantly shifting trees that have recently fallen into the water. As amazing as this location is, time is running out for us to enjoy it.
"As I made my way down to the beach, the area opened up to reveal many tree silhouettes and the color began to intensify over the water. I quickly grabbed my gear and started setting up, trying to spy some solid compositions.
"This location works exceptionally well to use these trees as silhouettes against a dramatic sky. First and foremost, I wanted my LB Warming Polarizer to cut the glare off the wet surfaces and aid in slowing down the exposure for a smoother look to the water. With the intensity of the color and the light coming from the horizon, I knew I was going to need to use one of my ND Grads. After spot metering with the camera, I selected my 3-stop Reverse ND Grad to balance the brightest light from the sky which ran right along the horizon."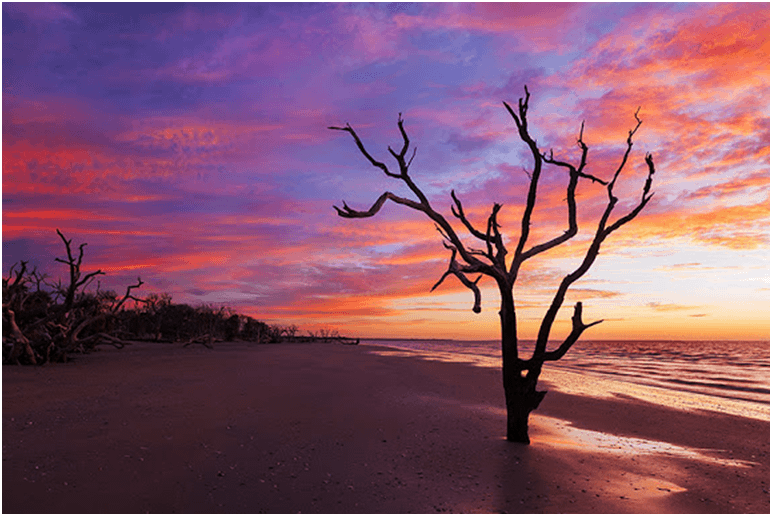 "I ran between the individual trees, changing my compositions frequently while fearing that this amazing light would fizzle off too quickly. Fortunately the conditions lasted for about 30 minutes, letting me feature various trees along the beach silhouetted against such remarkable light. Once the color began to fade and the adrenaline of the moment began to settle, I had a few minutes to reflect on my time spent in this unique location and just how lucky I had been to have everything come together to create such great shooting conditions. I also realized I would have not been able to capture these moments without using my Singh-Ray filters."