Susan Milestone
"Each Singh-Ray filter is produced to the highest possible quality standards. They are, in my opinion, simply the best in the business - and have always been my filter of choice."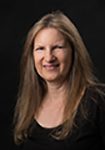 email:
susan@susanmilestone.com
Susan Milestone is a professional nature/fine art photographer and workshop instructor, conducting workshops with Tony Sweet throughout the continental United States, Canada and Iceland. Her work has been published in magazines, books, calendars, cards and posters. She is a fine art digital print maker and her prints are exhibited and sold throughout the country.