I-Ray Infrared Filters – 830 I-Ray and new "Custom" 690 I-Ray
Jump into the exciting creative world of infrared photography with Singh-Ray's revolutionary I-Ray filters – without the cost of a dedicated camera and conversion – or the need to lug extra gear into the field. I-Rays are also great creative options for those with 590 and 665 converted cameras. Now available in both 690nm and 830nm!

Virtually all conventional digital cameras are manufactured today with "hot mirror" infrared cut-off filters specifically designed to block infrared light from reaching the sensor. That's the challenge for infrared filters like the I-Rays – to produce infrared images in cameras designed to block infrared light!

Now we offer you two exciting filter options. First, our 830 I-Ray, for producing the dramatic black & white of pure infrared – and our new 690 "Custom" I-Ray, to give you both black & white or pleasing "near IR" color.

Why 690? In developing the new 690 "Custom" I-Ray filter, our initial goal was to come as close as we could to reproducing the "faux color" of a 590 converted camera, while dramatically reducing exposure times. What we discovered was that the built-in infrared cut-off filter in today's digital cameras blocked the very small amount of infrared light emitted at 590 nanometers, so that only visible light was reaching the sensor (and no IR effect).

So we increased the filter strength until we reached 690 nanometers. That emitted sufficient infrared light, enabling us to create pleasing infrared images in both color and black & white – and dramatically cut exposure times (depending on ISO, from less than one second to 2-3 seconds).

Our 830 I-Ray filter is engineered to eliminate visible and ultraviolet light, so what reaches your sensor is pure infrared. The result is a bold, often dreamlike image, with black skies, white foliage, silky smooth water and a number of other visual surprises, depending on your subject and location. Because of the infrared blocking filter in today's cameras, achieving that effect typically requires longer exposures (for example, 45-50 sec. at f8/ISO 640).
"Experiment until you like what you see. There are no set formulas. But be careful, you just might find yourself using your I-Ray filters everywhere you go."
"For the photographer looking to explore the creative side of infrared photography without the expense and bulk of having to convert a dedicated camera body, Singh-Ray I-Rays are the ideal choice." 
I-Ray 830 QUICK TIPS
The 830 I-Ray is a very dark filter, so you'll need to use a tripod, even in bright light. For the same reason, compose and focus before attaching the I-Ray, then turn off auto-focus.
Cover your camera completely to avoid light leaks.
Set your camera in manual mode, take a test shot and adjust accordingly.
Different DSLRs respond differently to infrared light – some are more sensitive than others. With some trial-and-error, you should quickly find the settings that work best with your gear.
With a DSLR in bright light, Tony Sweet suggests a starting point of 50 seconds @ f/8, ISO640.
A RAW image taken with the I-Ray will be red/magenta when you open it on your computer. Some post processing is needed to bring out the infrared look, typically starting with desaturating the image. Two techniques used by Tom Bohl are described in this article in the Tips & Techniques section of this site.
Note: A few camera lenses can produce an infrared "hot spot" in the center of the frame, a circular spot in the center that is lighter than the rest of the image and may or may not be correctable in processing. This problem is not specific to I-Ray filters, but rather is a function of how the specific lens treats infrared light passing through it and can occur with any camera shooting infrared, with either a filter or a converted camera body. For your convenience, we have included LifePixel's list of lenses known to have this issue: http://www.lifepixel.com/lens-considerations.
Because of their internal "hot mirror" infrared blocking filters, most DSLRs require longer exposures for infrared imaging, which can add spectacular motion effects with moving clouds, water and other subjects to the unique infrared look, as in the example below. Since mirrorless cameras do not have this configuration, faster exposure times can be used with the I-Ray.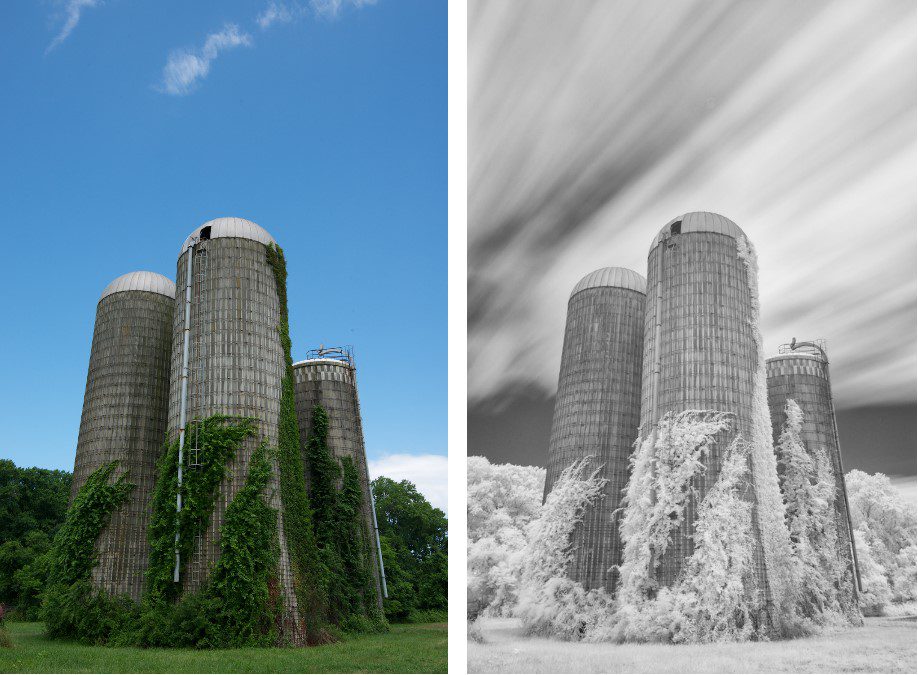 © Tony Sweet (tonysweet.com)
"On the left is the original scene. As clouds began rolling in,
I made a four-minute exposure with the I-Ray to create this surreal look."
Tony Sweet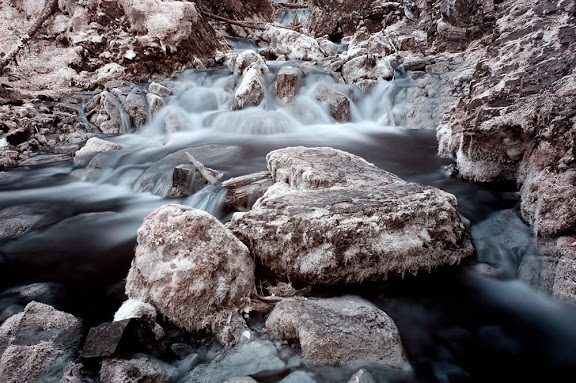 © Michael James (michaeljames.ca)
I-Ray image rendered in color.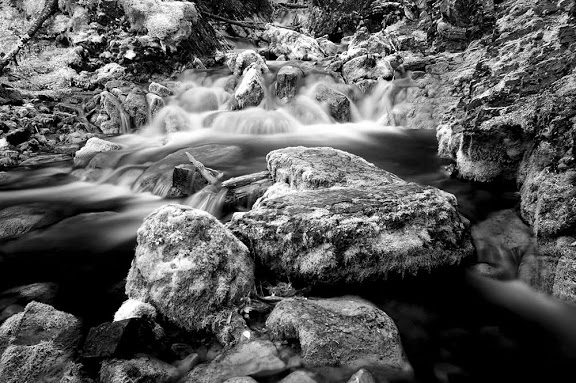 © Michael James (michaeljames.ca)
I-Ray image rendered in B&W.
Click here for tips and techniques from top pros on using the Singh-Ray 830 I-Ray infrared filter.