"Lighter, Brighter" LB Neutral Polarizer
LB: Lighter, Brighter.
Singh-Ray LB filters are 2/3 of a stop faster than comparable competitive filters, giving you greater creative flexibility without any sacrifice in performance or impact.
Most of today's top outdoor photographers still consider a polarizer one of their most essential filters. While software can darken skies, it cannot replicate the drama and impact a high-quality polarizer can produce in the sky. And one of the most important reasons to use a polarizer – to control glare and restore detail, color and saturation to foliage and other reflective surfaces – is something no software can do.
"I keep a Singh-Ray polarizing filter on every lens I own."— Art Wolfe
There's a reason Art Wolfe uses our LB neutral polarizer – because it delivers the best optical resolution and color fidelity of any polarizer on the market. Our LB polarizer also brings 2/3-stop more light to your viewfinder, making it easier to compose and focus accurately in early morning and late afternoon light. If you prefer the slightly cooler tone of a traditional polarizer, this is the one for you. For a subtle warmer look, try our LB Warming Polarizer.
"There are very few perfect products in this world, but I think I would throw this one into that category."— E.J. Peiker, NatureScapes.net
d
d
d
d
d
d
d
d
d
d
d
d
d
d
d
d
d
d
d
d
d
d
d
QUICK TIPS
The polarizing effect is most dramatic when you're shooting side-lit scenes – maximum polarization occurs along an arc 90 degrees to the sun's axis. Shooting directly into the sun will not polarize the image and may worsen lens flare.
Uneven sky density may result from high polarization with a wide-angle lens. Dial down the polarizing effect for consistent density.
If you plan to shoot often with a wide-angle lens, consider the thin-mount version of this filter reduce the possibility of vignetting.
On overcast days or rainy days, tighten your composition to exclude the sky and use your polarizer to increase color saturation and eliminate highlights and glare on leaves, rocks and water.
Experiment to learn: turn the polarizer completely when composing an image to see how it affects glare, reflection and saturation – and then dial in the look you like best.
For dramatic, natural looking images when there's a brighter sky in your scene, use your polarizer together with our Rowell graduated neutral density filters.
You can stack other Singh-Ray filters on the LB neutral polarizer. One filter needs to be a standard mount (to reduce thickness, our thin-mount filters do not have front threads).
Cheaper polarizers often have rings which can easily strip, making them difficult to remove without damaging the threads on your expensive lenses. They can also degrade or ruin images with lower optical resolution, flare, ghosting and other visual aberrations.
In your hand, a Singh-Ray polarizer's no-compromise construction is clear immediately. On your lens, it will consistently provide unmatched image quality and fidelity. It's ideal for landscape photography – and because it's 2/3 of a stop faster, also great for shooting handheld and for sports, wildlife, travel and other action photography.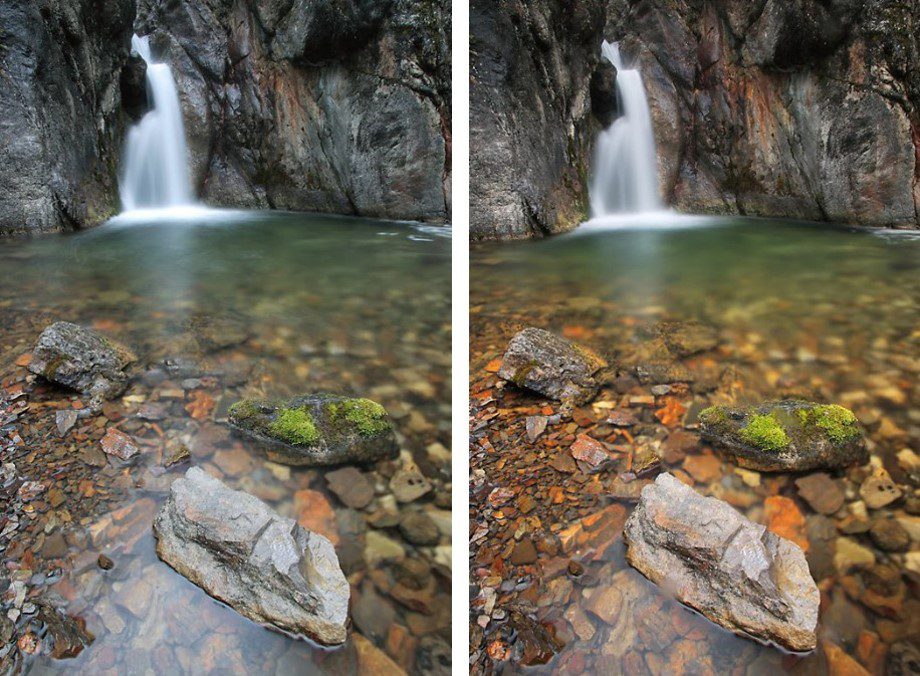 © Darwin Wiggett (darwinwiggett.com)
| | |
| --- | --- |
| Without filter | With LB neutral polarizer |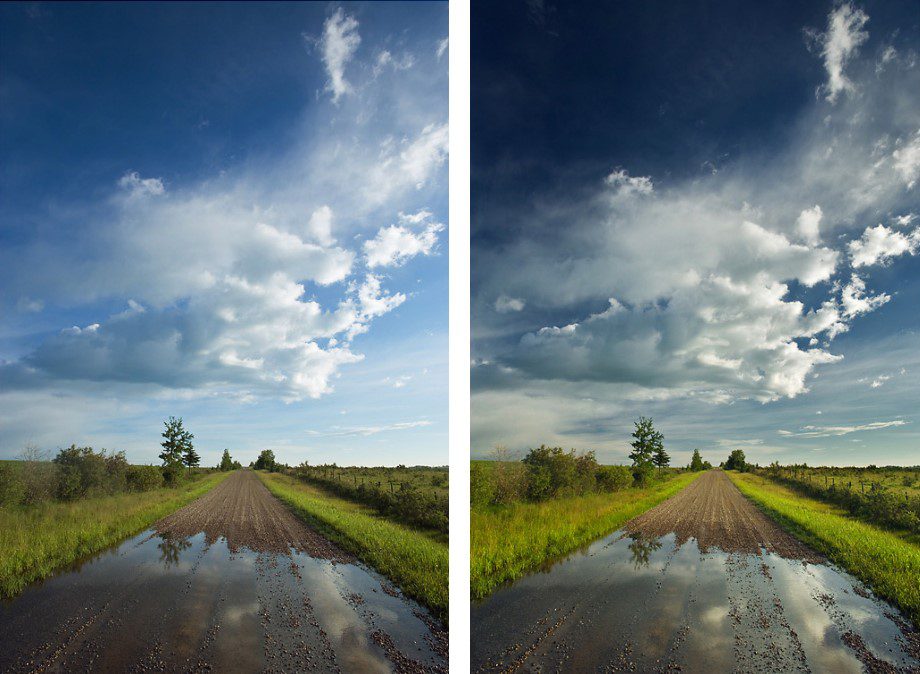 © Darwin Wiggett (darwinwiggett.com)
| | |
| --- | --- |
| Without filter | With LB neutral polarizer |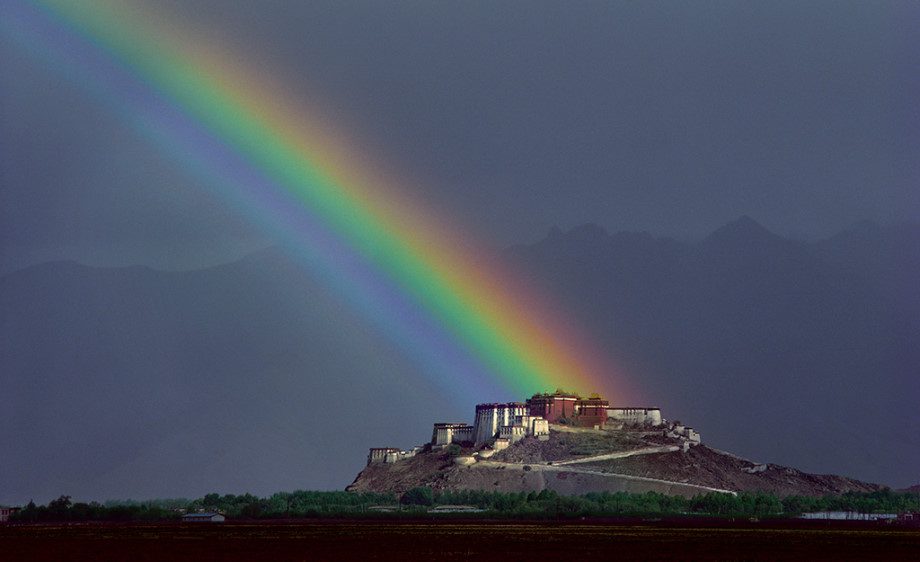 © Galen Rowell / Mountain Light Photography (mountainlight.com)After seeing a rainbow about to form and running a considerable distance with all his gear,
Galen Rowell captured one of his most famous images,
"Rainbow over the Potala Palace," using a Singh-Ray neutral polarizing filter.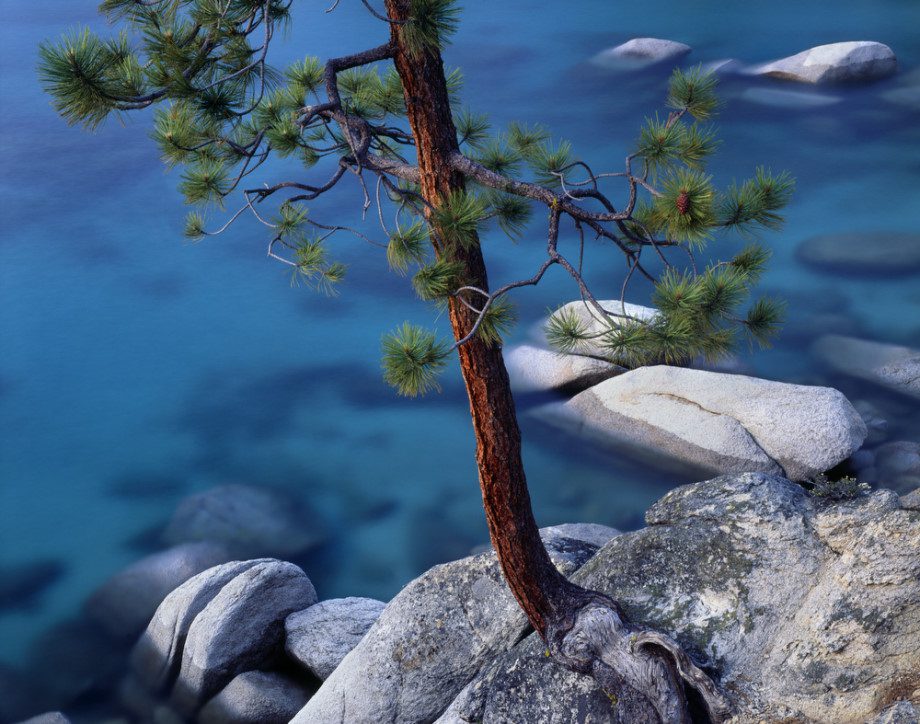 © Justin Black (justinblackphoto.com)"The LB neutral polarizer is a perfect example of the way Singh-Ray recognizes
and then elegantly meets photographers' needs.
There is no brighter polarizer on the market
– and the optical quality is superb. It's an essential tool for me."


Justin Black

Click here for tips and techniques from top pros on using the Singh-Ray neutral polarizer.