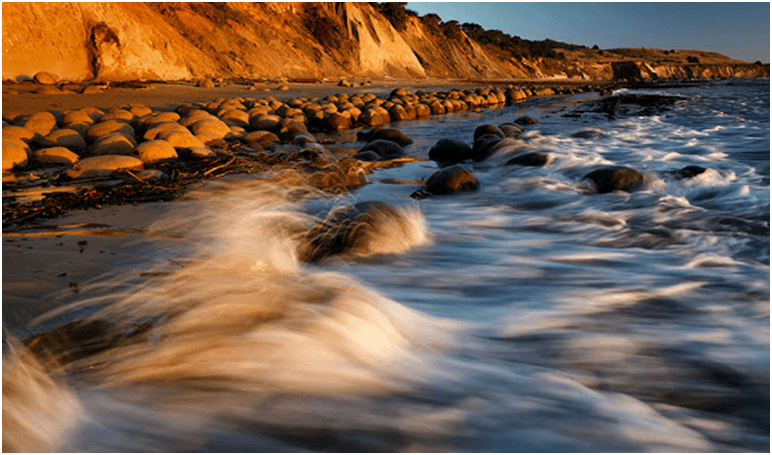 Don Smith recently returned from a whirlwind photo trip that involved 2,000 miles of driving in five days. "Crazy you ask? Well not when one makes a living as a landscape photographer.
"Although most of my stock shooting trips are planned well in advance, this time I discovered that I had an unexpected open week on my schedule that would begin in less than 36 hours. Just enough time to plan my journey. Joined by my friend and fellow photographer, C.W. McGowen, we set out to capture various coastal and inland locations spanning a wide area of Northern California and Oregon. These were locations that were on my 'bucket list,' and weather conditions looked ideal -- so, off we went!
"I decided to start the trip along the California coast, and then turn inland. The first day's weather report for the Point Arena area called for clear skies and a zero tide at sunset; a perfect combination for photographing Bowling Ball Beach (located just 3 miles south of town).
"Technically called 'concretions,' these hard sphere-shaped rocks are composed of materials far more resilient than the Cenozoic mudstone that once surrounded them. Over the years, this mudstone has eroded away under the constant onslaught of the Pacific Ocean, forming the cliffs that line the shore behind the beach and leaving the tougher 'bowling balls' behind. This art is one of Mother Nature's finest achievements and can only be seen in its entirety during a zero to negative tide.
"For the above image, I decided to get into the ocean and shoot back toward the shoreline for a different perspective. I used my Singh-Ray LB Warming Polarizer on my new Canon 24-70mm L Series II lens and waited until the sun was just minutes from setting to get this beautiful crashing wave and the warm light bathing the rocks. Once I found my composition, I simply timed the incoming swells at various shutter speeds. I like the water's movement in this frame as it counters the static nature of the rocks, beach, and cliff. Not only did my LB Warming Polarizer capture the light as my eyes saw it, but it helped eliminate a bright glare on the waters surface and allowed for a touch of warmth in the breaking wave!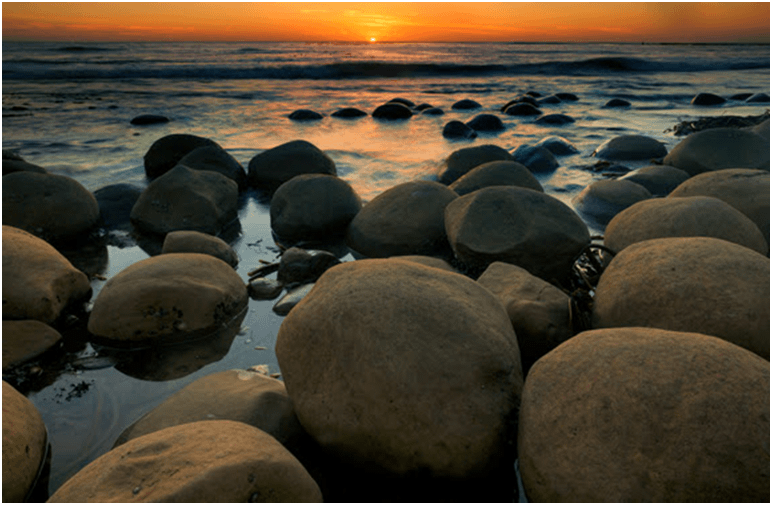 "Just as the sun kissed the horizon, I positioned myself behind the Bowling Ball rocks to shoot towards the setting sun. With my  LB Warming Polarizer still attached, I handheld my Singh-Ray 3-stop Daryl Benson 4x6 inch Reverse ND Grad to hold back the light on the horizon, which allowed me to effectively balance the sky with the foreground rocks. It was simple!
"Our next stop involved 11-1/2 hours of driving with a quick 5-hour stop in Arcata, California, for some much needed sleep. We arrived in the early afternoon at Oregon's Cape Perpetua, a beautiful location that offers rugged views of the coast. It is also home to Thor's Well, essentially a hole in the rock shelf that sucks in not only breaking waves, but also water pushed through the well from underneath. As the wave recedes, all the water is sucked down into the hole (like a giant toilet bowl). I started shooting this scene from high above the bluff at the parking lot just off Highway 101, then proceeded down the cliff until I was within 10 feet of the eerie abyss resulting in this next image.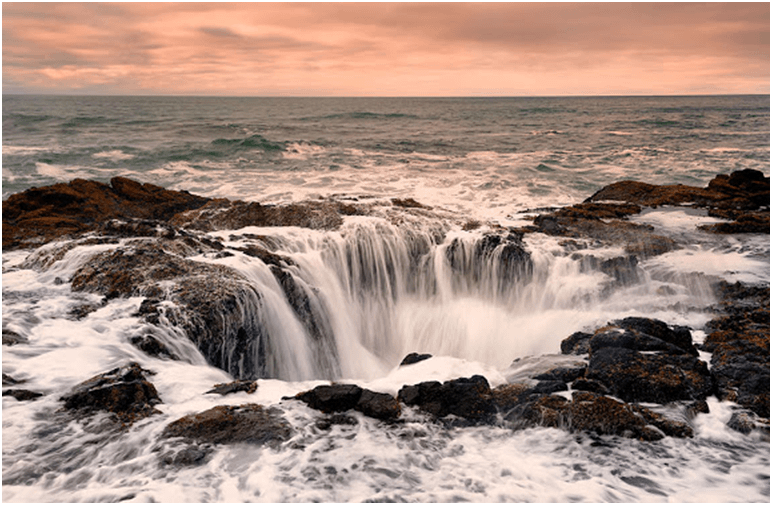 "I used the Singh-Ray LB Warming Polarizer to cut the glare off the water and balanced the sky with a Singh-Ray 2-stop hard-step ND Grad. Cape Perpetua offers many more unique featuress to photograph and I highly recommend a stop at this picturesque state park.
"We pushed on with another 4-hour drive and awoke early the next morning to photograph the amazing sea stacks -- called The Needles and the Haystack -- at Cannon Beach near Oregon's northern border. The Haystack measures 235 feet and has been featured in numerous motion pictures including: The Goonies, 1941, Kindergarten Cop, Twilight, Hysterical, and Point Break.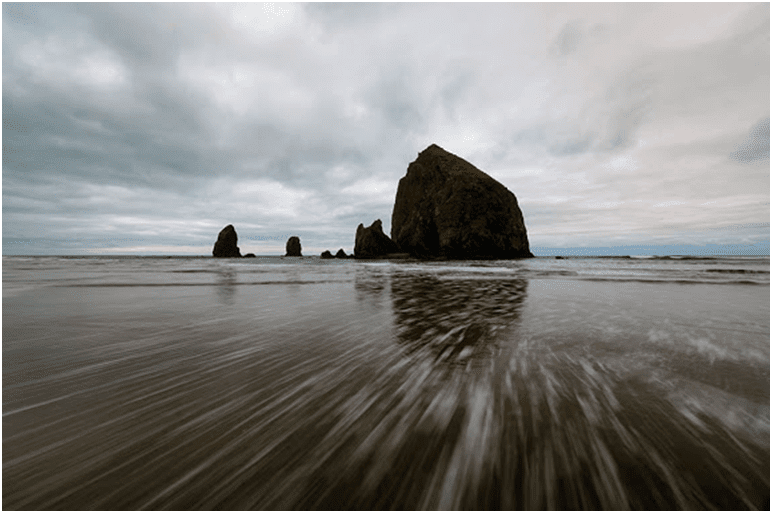 "I decided to take a low perspective using my Canon 16-35mm L Series II lens with a Singh-Ray Thin LB Warming Polarizer to both control the amount of reflection and accentuate the slight warmth in the clouds from the rising sun. I used an aperture of f/22, which allowed for a 1-second exposure on the retreating wave adding some movement to the water. The thin-ring version of this polarizer prevented any vignetting at this extreme aperture!
"After a quick breakfast, we checked the weather forecast and saw that a strong Pacific storm was barreling towards the coast, so we decided that it was time to head inland. Our next destination took us 2-1/2 hours through the heart of Portland and east towards the famed Columbia River Gorge. Knowing we would only have about a 4-hour window to photograph, we limited our shooting to a stretch of waterfalls along the Historic Columbia River Highway.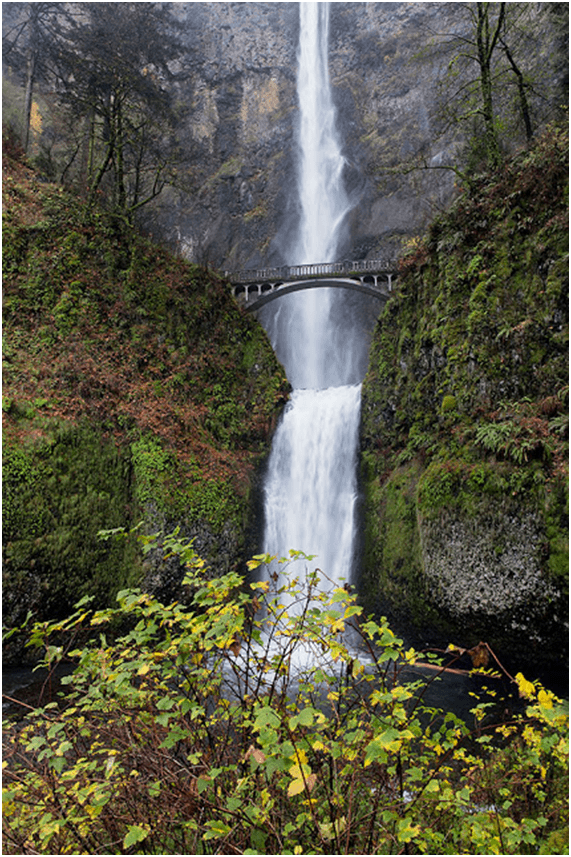 "We arrived at iconic Multnomah Falls shortly after noon and were greeted by extremely strong winds, but we were fortunately sheltered as we moved nearer the falls. These falls (upper and lower) reminded me of Yosemite Falls. As we approached the base of the lower falls, we could feel the power of the water and had to constantly wipe-down our lenses to remove the mist.
"The falls drops in two major steps, split into an upper falls of 542 feet and a lower falls of 69 feet, with a gradual 9 foot drop in elevation between the two, so the total height of the entire waterfall is conventionally given as 620 feet which makes it the tallest waterfall in the State of Oregon. I captured this scene using my new Canon 24-70mm L Series II lens with a Singh-Ray 82mm LB Warming Polarizer to not only cut the glare on the water and foliage, but to also add some much needed warmth since these falls are in deep shade and we had a thin cloud cover overhead.
"With Oregon's early sunsets (4:29 pm on the day we shot the Gorge), our time was limited. We decided to forgo lunch in favor of a hot mocha as temps were hovering around the high 20s -- though the constant wind made it feel much colder. Fortunately we were able to photograph three more falls -- Wahkeena, Bridal Veil, and Elowah -- before running out of light and making it back to the car just as night was taking hold. We pushed on towards our next destination, the Painted Hills in the John Day Fossil Beds National Monument, in Wheeler County, Oregon. This is an area I have always wanted to visit and photograph.
"The next morning we left in the dark in order to make the 1-hour drive and get in as much shooting before the predicted rain arrived. The Painted Hills area is named after the colorful layers of its hills corresponding to various geological eras, formed when the area was an ancient river floodplain. The black soil is lignite that was vegetative matter that grew along the floodplain. The grey coloring is mudstone, siltstone, and shale. The red coloring is laterite soil formed by floodplain deposits when the area was warm and humid.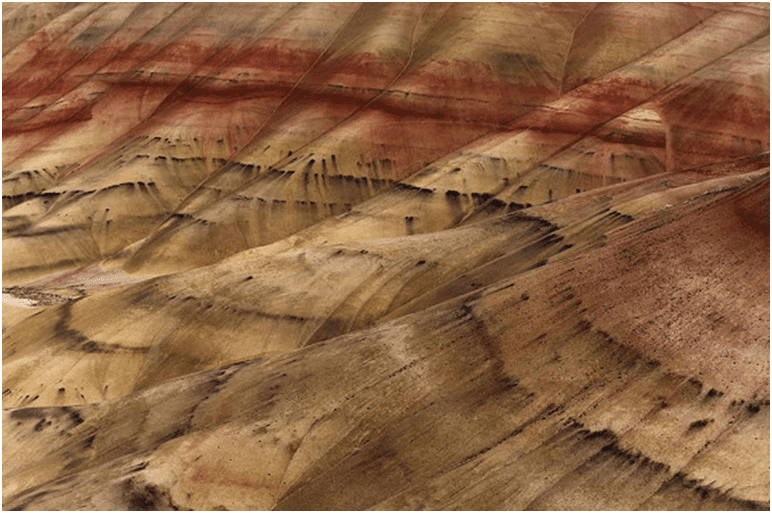 "We found that the Painted Hills Overlook and Trail offered the most spectacular views. At the summit of the trail, I spotted this view and decided to compress these hills with my 70-200mm L lens and added a touch of warmth with my LB Warming Polarizer. Fortunately we were able to photograph for three hours before the rain finally arrived, and we decided it was time to pack up for our 7-hour drive to our final destination, Burney Falls, located back in our home state of California just 8 miles from McArthur-Burney Memorial State Park.
"The next morning we caught a break from the rain and awoke to broken clouds which produced perfect light to photograph a waterfall. But as we would soon discover, this wasn't just any waterfall.
"Burney Creek drains from volcanic highlands northwest of Mount Lassen, much of it featuring porous bedrock where precipitation can easily sink into the ground. While plenty of water remains in surface-level Burney Creek, a significant aquifer exists beneath the surface. Shortly before merging with the Pit River in Lake Britton, Burney Creek hurtles 129 feet over a cliff in twin channels, thundering into a large pool. Flanking either side of the main portion of the falls, hundreds of springs seep out of the cliff and veil into the pool simultaneously, creating a wall of falling water stretching 250 feet in width!
"For this scene, I used my Singh-Ray ColorCombo Polarizer, as I wanted to both warm the scene and make sure I brought out the turquoise color in the water. The filter nailed it and captured the scene exactly as my eye saw it. I can't ask for more than that!
"We spent the next 2-1/2 hours wandering around a 1-1/2 mile trail that encircled these amazing falls, then decided it was time to pack up and head home. In total, we covered 2,000 miles in 5 days over 2 states. We were also fortunate enough to add an unexpected night stop to photograph Mt. Hood lit by moonlight and Mt. Shasta as it appeared through the clouds at sunset. Bonus images for sure and a great way to round out our long but productive trip!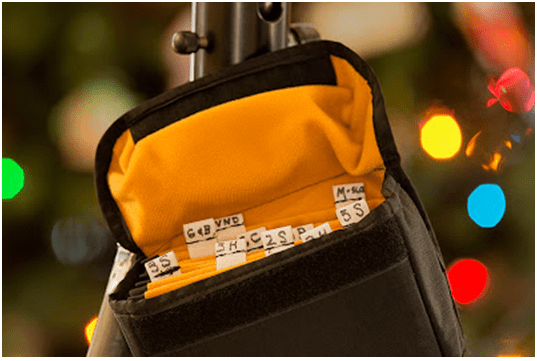 "Of course, my Singh-Ray filters come with me on any shoot I do, and I conveniently carry them in my Kinesis F169 Large Grad Filter Pouch. The pouch allows for 10 large 4x6-inch ND grads and/or polarizers to be carried in one convenient bag. If you order one, make sure you get the optional Velcro tabs for easy identification, and the external strap which I keep hooked around the ballhead on my tripod for quick and easy access."
If you would like to experience the magic of the American West, Don will be holding seven workshops during the coming year. He also offers his latest e-book, The Photographers Guide to the Big Sur Coast.