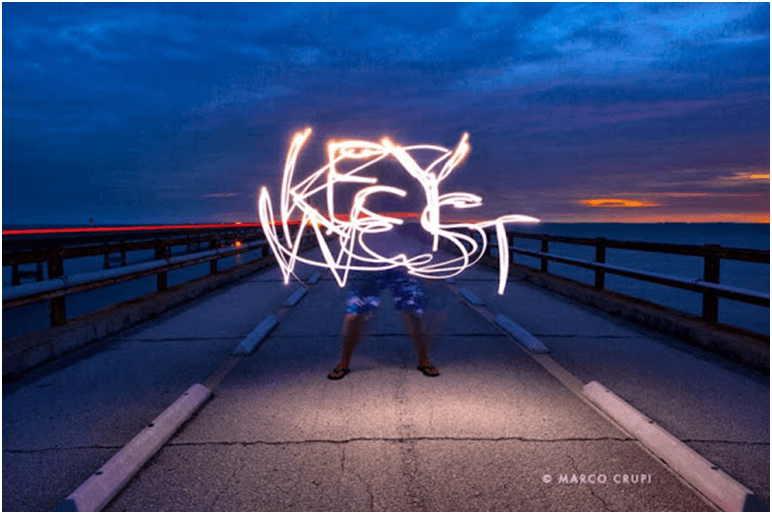 There's no better cure for creative cabin fever than a few days of escape. New Jersey photographer and graphic designer Marco Crupi says, "I personally enjoy traveling to South Florida whenever possible. I find something magical about this area. With Miami as its 'capital,' the area is always filled with great vibrant energy. I also enjoy driving down to the Florida Keys on US Highway 1. This time was no different. I rented a car in Miami and shot down to Islamorada on my way towards Bahia Honda State Park. I very much enjoy capturing the Caribbean-like pastel colors that blanket this area. Driving south, I made a pit stop in Lower Matecumbe Key for a coffee break before eventually reaching Bahia Honda State Park.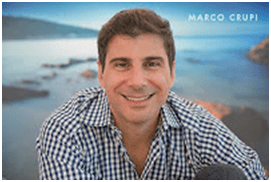 "Along the way, I stopped to capture a fantastic sunset forming ahead of me. I chose the Seven-Mile Bridge area as a backdrop. I wanted to do something a little different, so I decided to attempt light painting. Painting on an image is a fun technique you can try on your own. Basically, you are painting with a light source, say an LED light, as the camera's shutter remains open. It might require a few tests, but it will certainly give you a memorable shot or two! The settings for my destination giveaway clue-shot were: f11, ISO 100, at 30 seconds exposure. I chose the lower (slightly wider) opening on my f/stop in conjunction with my Singh-Ray Vari-ND to fully capture the ambient lights happening all around me as well as the light painting. I was pleased with the result. The evening carried me on to my next destination, Key Colony. I arrived as the skies and surroundings were dark, however, I scouted my sunrise locations before calling it a night.
"At this latitude you feel as if you are in a different country. This area is like a jewel in the middle of paradise. The beaches are white and the water is as transparent as you can imagine. Palm trees along the water are a common sight. One can easily compare the area beaches to our southern Caribbean neighbors, like the Virgin Islands. In fact, we are not that far apart.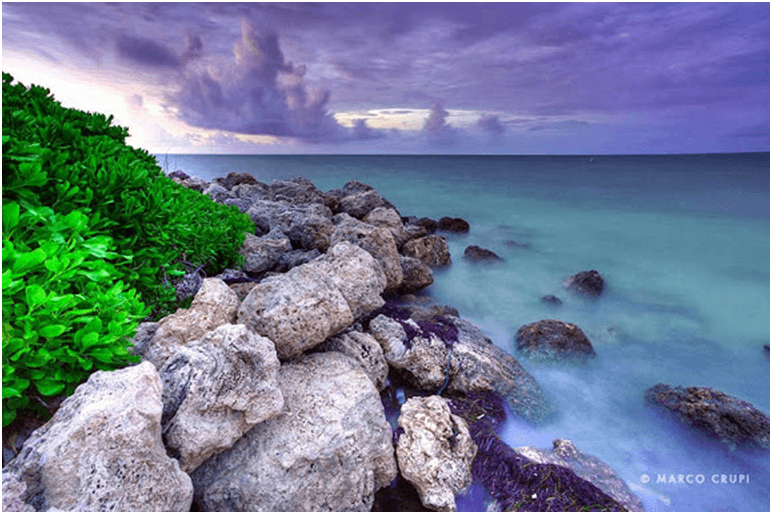 "The next morning started with some bad weather and overcast skies, which initially can appear a bit depressing, but with cloudy skies, come interesting photography opportunities. As dawn broke, I was lucky to experience a beautiful light with an amazing sunrise to follow. I spotted this small area of vegetation with rocks leading into the bay. The sun had not yet made it above the horizon. Without hesitation, I covered this spot and was happy to do so. Here I found interesting lines and dynamics to fill my frame. The light was just right and the colors were truly overwhelming. Because the light was still very low, and because I wanted to apply my Singh-Ray Vari-ND to give the shot motion, I had no option but to bring down the f-stop to f8, while retaining the ISO 100. I was able to shoot this frame at a 30 second exposure with a 17-40mm lens.
"A few feet away, I found an interesting pier I had set my eyes on the night before. Here, I placed my tripod to capture an amazing show of colors. I was also greeted with a partial morning rainbow (not seen here).
"After shooting a few dozen pictures of this pier from many different angles, I continued around the immediate area looking for more opportunities. For this particular pier shot, I used my Canon 5D MK III with a 17-40mm lens at 17mm with a Singh-Ray Vari-ND mounted in front and a tripod (along with a much needed lens rag). This area was wet! I kept getting splashed by the side waves. When I'm shooting in damp environments, like rain, beach, or snow, I tend to prefer the 2 second delay shutter option - avoid using a cable remote. It avoids exposing the electrical parts on the camera which can be damaged with the wetness. My settings were: f/22,  ISO 100 to get a 1.3 second exposure. Slow enough to give the image movement but meanwhile retain the vibrant tone and colors.
"The following day, I enjoyed Bahia State Park. I got a little sunburn, which is never a good idea, so I decided to find a nicely shaded area and relax with a fabulous siesta! It certainly gave me the extra energy to go searching for more potential photographic spots. By the way, this is the Palm tree where I took my siesta!
 "After my siesta break, I spent the rest of the afternoon looking around and swimming in the warm and tranquil waters. I ended up finding a strategic location that conveyed an interesting composition and mood. Located at the end of a rock formation, this area turned out perfectly for me as the buoys served as my leading lines toward the old bridge. To say that I was very pleased with my photos is an understatement! I returned home with fond memories and new challenges to apply on my next journey. Until next time, Happy shooting!"