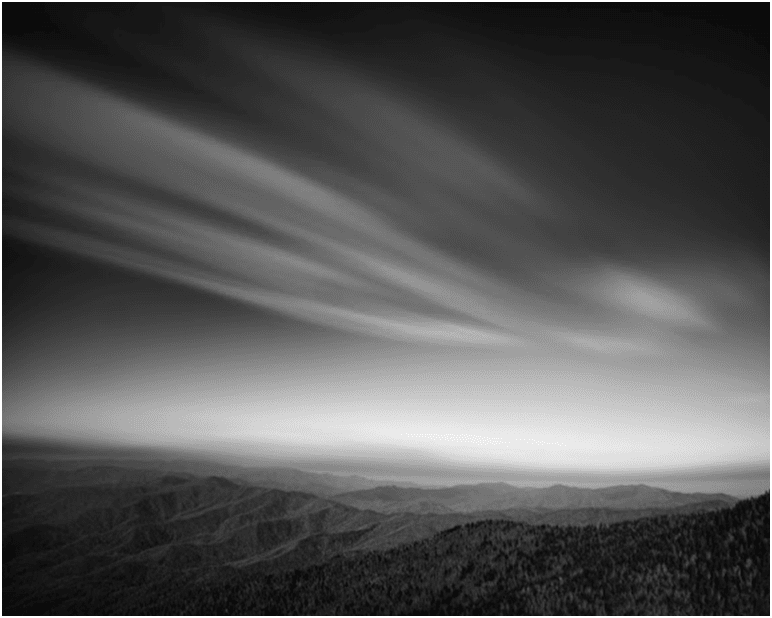 Veteran fine-art photographer Tony Sweet recently received a preview sample of Singh-Ray's latest development: the 15-stop Mor-Slo solid neutral density filter. "After several chats with Bob Singh about my need for such a filter, I was really pleased to receive one that I could test. There's just one word to describe this filter — Wow! "Less than a year after Singh-Ray's introduction of the 10-stop Mor-Slo ND filter, here comes another technical breakthrough for all of us who work in Long-exposure Land. Many more logical photographers might ask why Singh-Ray's 5-stop and 10-stop Mor-Slo filters are not enough? Why can't we just stack them togther? How about stacking the 5-stop or 10-stop on the famous Singh-Ray Vari-ND (with continuously variable density up to 8 stops)? "I can only answer those questions by saying that in harsh daylight with slowly moving clouds, 5 or 10 stops may not be enough to achieve the effect I am looking for. The 4-minute image at the top of this story, with its very slow moving clouds, was made late in the morning on Clingman's Dome in the Great Smokies. It was shot at f/16 to capture the cloud movement. All the images in this story were made with my Nikon D800E and the Singh-Ray 15-stop Mor-Slo filter. "When stacking two ND's, I'm always concerned that there could be a slight loss of image quality. In general, my preference is based on feeling that less is better. Now that I'm using my 15-stop Mor-Slo, I will no longer need to stack the 5- and 10-Mor-Slo filters. In the event that I lend my Mor-Slo NDs out to students,  I'll stack the 5-stop Mor-Slo on the Vari-ND to give me up to 13 stops of added density. "I used to shoot these types of scenes at f/22 with my D3X, however, with the super-high-megapixel Nikon D800E, I've modified my approach a bit. Here's what I'm talking about: for me, using the D800E is not razor sharp at f/22. The manual says not to go above f/8 for greatest sharpness, but no one I know is shooting scenics at f/8. I have had success and greater sharpness shooting at f/14 most of the time. The main issue in terms of long-exposure photography is that by shooting at f/14 instead of f/22, I gain about 1.5 stops of light and my long exposure using the 10-stop Mor-Slo is more than cut in half. For example, a 4 minute exposure at f/22 is cut down to under two minutes at f/14. Although, that may not sound like a lot to most photographers, those who shoot a lot of long-exposures know that a 4-minute exposure and a 2-minute exposure can be two completely different scenes.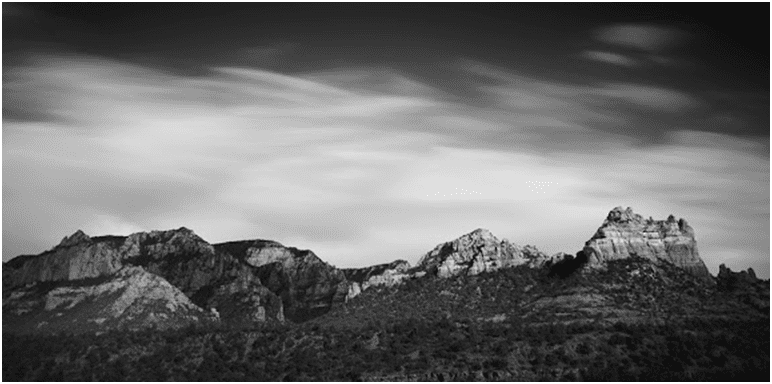 "This next image (above) was shot in mid-afternoon light from our balcony in Sedona, AZ. Using f/13 and the 15-stop Mor-Slo, I was able to record the motion of the very slowly moving clouds during this 8-minute exposure. It looks very different than if I'd shot at 1/60 second without the 15-stop Mor-Slo.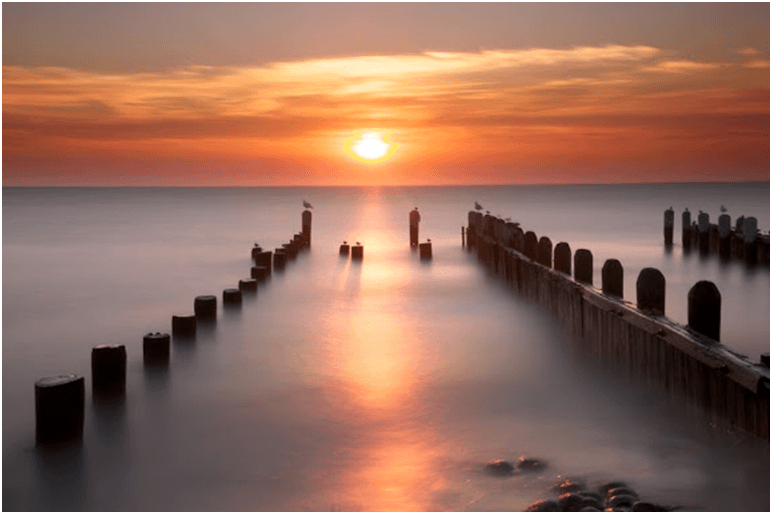 "Shooting into the bright sun is one thing. Shooting a dropping sun for a very long exposure is like photographing the moon for a long exposure: the subject will streak. In this case, the setting sun movement was masked by the clouds. Of course, shooting directly into a diffused fireball, dramatically lowered the exposure time. So, I had to go to f/22 to get a 2-minute exposure using the 15-stop Mor-Slo, rather than 1/125 second without the filter.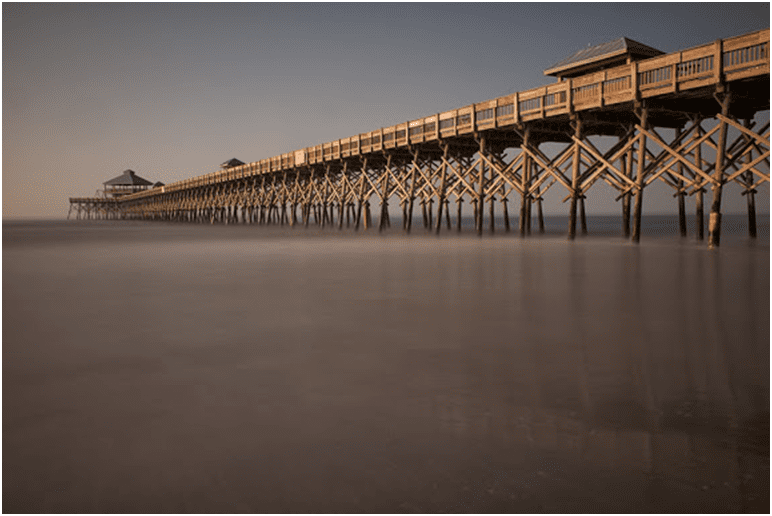 "This is where the 15-stop Mor-Slo shines: lots of bright morning light with no clouds to diffuse the sun. I was still able to get a very long exposure, and again needed to go to f/22 to get the desired 4-minute exposure, compared to 1/125 second with no filter.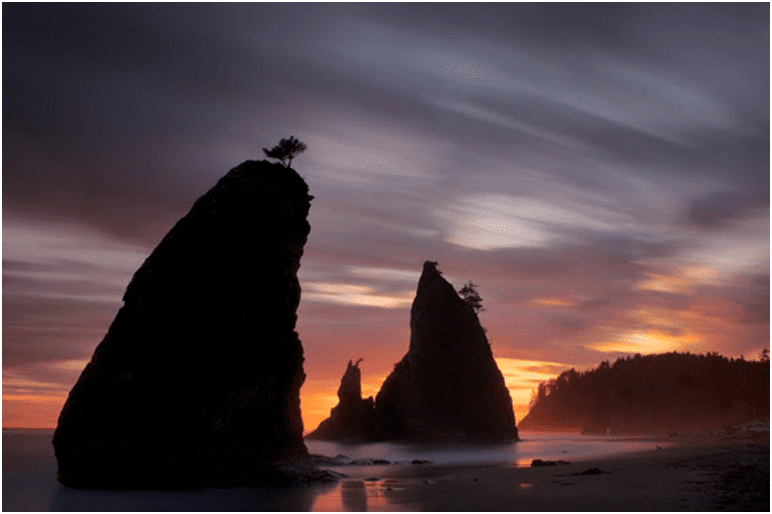 "When we have to hike a couple of miles to reach a scene, there are no guarantees of what we will get. On this day in Olympic National Park we were lucky. As the sun went down over these Rialto Beach sea stacks, it lit up the diagonally moving clouds just a bit. Again, in order to get the 4 minute exposure time I wanted, using the 15-stop Mor-Slo, I set the aperture at f/22. Then, as the light was fading during the exposure, I made a judgement call to extend the exposure to 5 minutes. That appeared to have been enough to bring some detail into the base of the sea stack in the foreground. "Since color cast is quite prevalent and sometimes a serious issue with other brands of neutral density filters, I should mention that the color cast created in my 15-stop Mor-Slo images is just slightly warm, giving me the choice of either leaving it in the image or easily dialing it out during the RAW process. "Also, when shooting long exposures, in order to avoid pesky light leaks in the frame, I cover the camera's eye piece, the LED top and back screens, and even the depth of field window on the top of my lens. Material-wise, a heavy terry cloth towel, a light-tight material from a hardware store — or even a hat, a lens-cleaning cloth, or just about anything you can find will be better than nothing. "I also find I have more latitude in choosing aperture settings and shutter speeds when using 15 stops of ND. That's one more reason why the 15-stop Mor-Slo is now my new favorite ND filter for achieving long exposures in bright light."