Gold-N-Blue Polarizer
For those moments when everything is right except the light, try the filter many outdoor pros consider their "secret weapon" – to capture more color and life in a scene and transform ordinary light into extraordinary images.
The Gold-N-Blue polarizer adds variable gold or blue tones to polarized light, creating effects ranging from subtle to dramatic. It's versatile and exciting to use, especially with water scenes, both in dull light and on bright, sunny days. And B&W shooters depend on the Gold-N-Blue for the vivid tonal contrast it adds to their images. Try the Gold-N-Blue and discover a world of fresh new photo opportunities!
"I've used the Gold-N-Blue polarizer many times over to create something out of nothing. We have all faced the challenges presented by lackluster gray skies, flat shadowless lighting and colorless lakes and streams. You may have a dynamic subject and an engaging composition, but the light just may or may not be there. That's when I turn to my Gold-N-Blue polarizer."— Adam Barker
a
a
a
a
a
a
a
a
a
a
a
a
a
a
a
a
a
a
a
QUICK TIPS
The Gold-N-Blue polarizer works especially well with large areas of sky and water or ice and with tighter shots of moving water. Try it with the Vari-ND for dramatic color, combined with exciting motion effects. Also extremely effective with our graduated neutral density filters to hold back bright skies and add detail to shadow areas.
Until you start rotating the polarizing ring, you won't know quite know what to expect with the Gold-N-Blue. You'll see light-reflecting areas in the scene changing from strong golden yellows to little or no effect, then to dramatic blue tones. Experiment to find the looks you like.
The polarized colors are strongest when your lens is pointed at a 90° angle to the sun. Even when there is no sunlight, the Gold-N-Blue will often pick up just enough polarized reflection to add new life to an image. Areas of the scene reflecting little or no polarized light remain unchanged.
Should you notice any magenta tint, just switch from auto white balance on your camera to custom white balance, with the Gold-N-Blue on your lens. Shooting RAW will also give you the most flexibility in post-processing.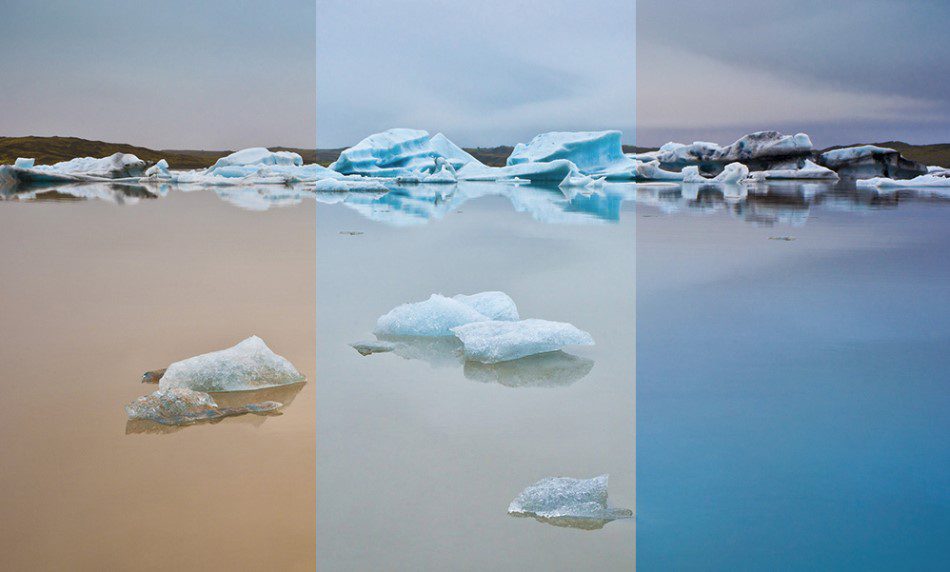 © Thierry Hennet (hennet-photography.com)

This composite image of the Jökulsárlón glacier lagoon in Iceland illustrates
how the mood can be transformed using the Gold-N-Blue (center image with no filter).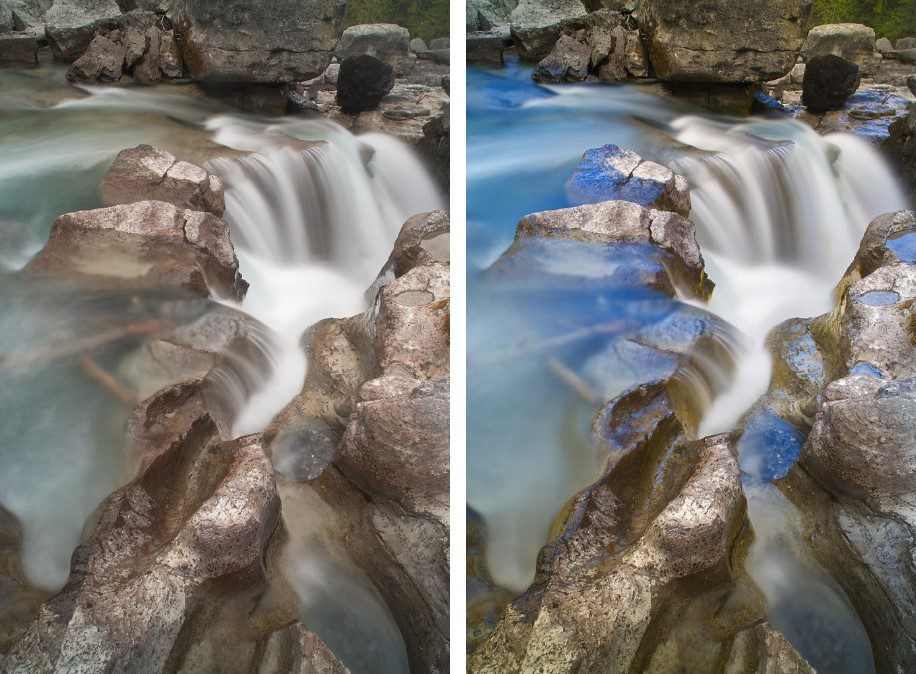 © Darwin Wiggett (darwinwiggett.com)
| | |
| --- | --- |
| With Vari-N-Duo, 6 seconds at f16. | With Vari-ND and Gold-N-Blue, 15 seconds at f16. |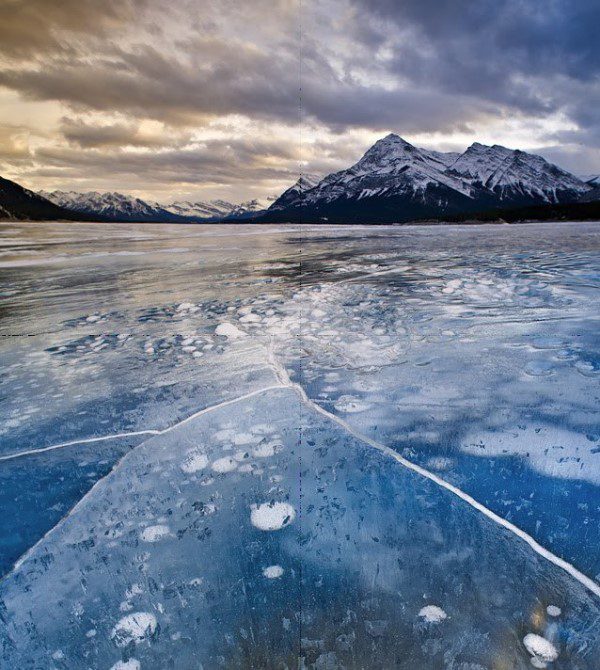 © Darwin Wiggett (darwinwiggett.com)
"Here I used the Gold-N-Blue to add color and life to a scene that was mostly just grey.
I just rotated the polarizer to give me blue reflective highlights.
The Gold-N-Blue can save the day by adding color when the light is really drab."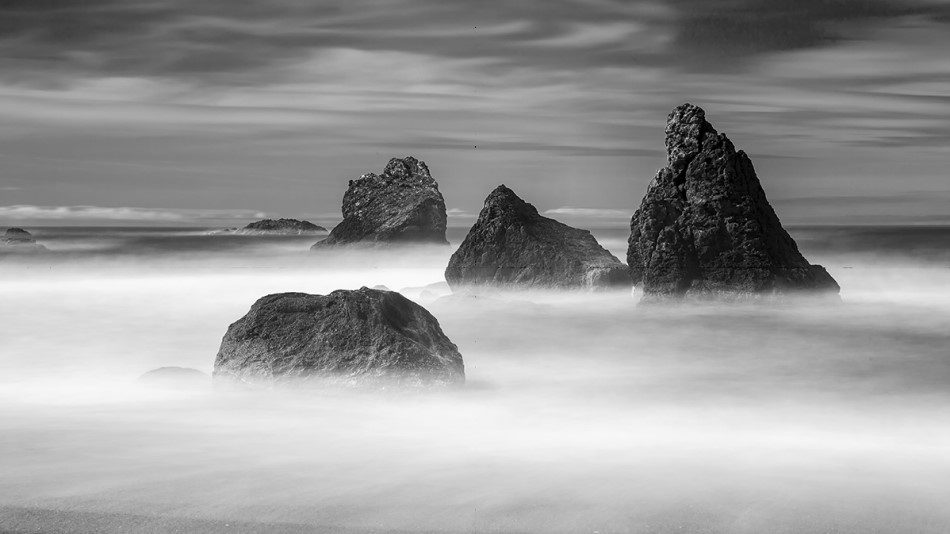 © Alec Johnson
"The Singh-Ray Gold-N-Blue Polarizer works much like the color filters
that photographers once used with their black and white film.
One of the magical results produced by this filter is the additional depth
and dimension it gives my subject matter.
As I view the image above, I can really feel a three-dimensional quality to the twin stacks
that I am able to achieve only when using the Gold-N-Blue."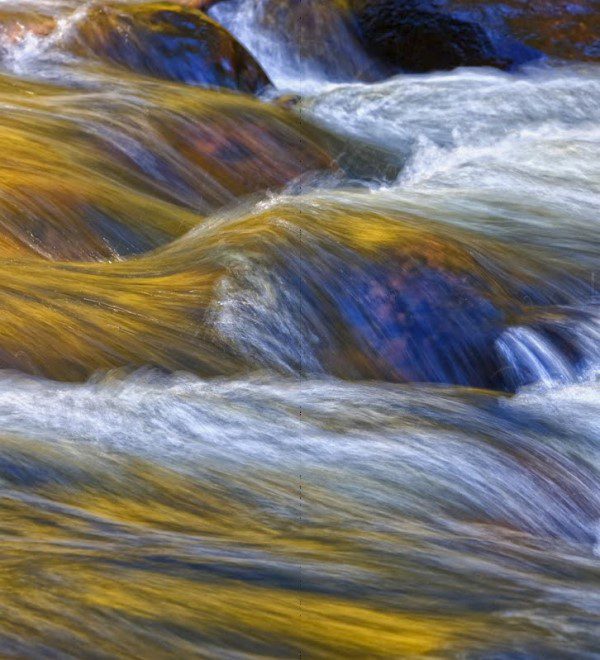 © Darrell Moll (darrellmoll.com)
"Another example of having the right filter at the right time.
We spotted this scene along the Little River in the Smokies,
but I was underwhelmed with the color.
Then I had a thought and pulled out my Gold-N-Blue polarizer and experimented,
watching the scene change before my eyes.
I feel I hit it just right with this particular image
– it was just what I hoped to get when I first saw the scene."

Click here for tips and techniques from top pros on using the Singh-Ray Gold-N-Blue polarizer.